Get Started With Our Free Trial!
We all know the basics:
Eat right
Get enough sleep
Exercise
Cultivate a positive attitude
But how can we achieve wellness in today's world that seems to pull us away from these goals at every turn?
Join our FREE 7 Day Self Care Kick Start Trial to hit reset and restore your wellness!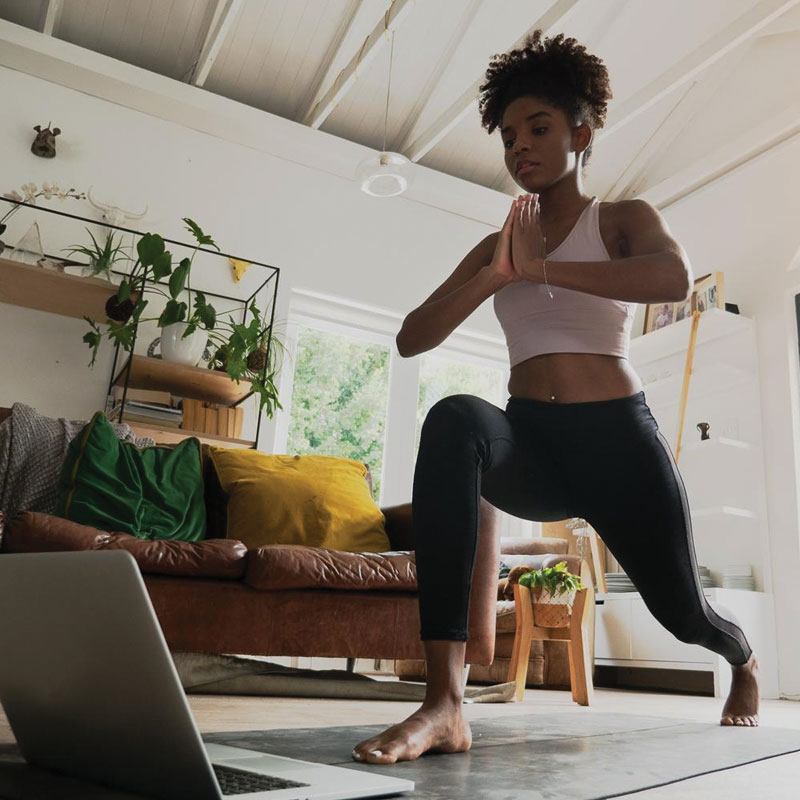 In Just One Week, You'll Start Seeing the Changes...
You won't be as tired after a full day of Zoom calls
You'll have more energy for actual hobbies
You'll feel like your body is ready to move (not stiff and achy)
Your diet will support your health (it takes more than shopping at Whole Foods)
Our 7 Day Self Care Kick Start will get you started on the right track:
One-on-One Goal Setting with Your Health Coach
A 3-month Wellness Plan so you keep your Fitness Journey going past these 7 days
A Daily Yoga or Fitness Class to invigorate you!
Access to Additional Classes so you can do what is best for your body and life
Daily Check Ins and Support to Stay on Track with your Coach
PDF Challenge Guide so you never get lost
Education on Ways to incorporate 7 Essential Wellness Habits
Connect with our Online Community of like minded wellness enthusiasts
What To Expect During Your Program
7 Day Kick Start Challenge Starts Mondays! Your Prep Day is Sunday!
Day 0 - Sunday
Get excited about feeling amazing again!
Schedule your appointment with our health coach to create your custom 3 month plan
Download our Align Coach app and get acquainted with our on demand class platform
Day 1 - Monday
Start to feel the confidence of being back on track!
Learn how to better plan your meals for the week
Commit to eliminating alcohol for just 7 days
Take our 25 Minute Yoga Flow class or choose from our library of more than 600 options
Day 2 - Tuesday
Start to feel physically clearer and cleaner.
Learn how to incorporate advanced meal prep into your healthy habits
Commit to staying hydrated
Take our 40 minute Align Define: Arms Legs, Integration class and feel those muscles again!
Day 3 - Wednesday
Begin to feel greater strength and mobility!
Rekindle your motivation by reconnecting with your *why*
Add more colorful plants & organic produce to your healthy habits.
Take our 30 minute Lower Body Myofascial Roll class with Dr. Brown.
Day 4 - Thursday
Start to feel more calm, flexible and optimistic (regardless of the news on TV)
Continue to incorporate more movement into your healthy habits
Unlock greater tranquility in our 30 minute Yoga Ground class
Day 5 - Friday
By day 5 you'll be feeling strong in your resolve and have more stable mood
Begin to eliminate added sugar from your diet (again) – you know the benefits and now is the time to commit
Wake up your core with our 20 minute Yoga Core class
Day 6 - Saturday
Notice how amazing what just a few days of focus on health can do for your mood and vitality
Lean in on better sleep and finally begin to get that much needed shut eye
Take our 10 minute Pyramid Ignite Xpress class and get those juices flowing
Feel more limber after taking Dr. Brown's 15 minute full body stretch class
Day 7 - Sunday
Notice the physical and mental changes you're already experiencing after only one week! Feel excited about keeping up with self-care habits again!
Get serious about stress reduction, find a practice that works for you
Take our 20 minute core workout and find yourself standing taller
Pat yourself on the back for taking 7 days to reset your wellness habits
Register for Free Trial
Limited Spaces Available!
Register for our free trial to find out about our membership options. This trial includes Align On Demand, Align Live From Home and Align Coach. We have options to fit your goals, lifestyle and budget! During your trial you will work with our holistic wellness coach to create a 90 day program, so that whether you become a member or not, you will be off to a good start on optimizing your wellness.